Outside corners have built in chamfer and also work great on columns
Waler bracket
to Shoe Plate
Side section view through AlumInumTie Channel
This view shows the mechanics of the tie system and the snap together waler and scaffold brackets
Vertical "Tie Channel" Forming System Patents in Process
"I have spent several years working on large concrete construction projects. Most current form systems are very heavy. They all seem to work ; however, after lugging 100lb (45kg) forms all day I began a mission years ago to design a form set that is not only light , but strong, affordable, versatile, and exceptional. This vertical "Tie Channel " system does not require heavy plywood forms with steel framing. All of the hardware is extruded 6061 T6 Aircraft Aluminum. Scaffold brackets are hung with aircraft cables thus cutting the weight by over 20 fold compared to other steel scaffold brackets. Each standard plywood panel is 16" wide and the panels do not have any holes going through them for ties. All ties go through the tie channels. Fillers can be easily made in the field. The panels are very easy to handle because of theiir width and can also be used for colums and supported deck forming vs having to purchase additional 4 x 8 full sheets. " John Fanuzzi inventor
Tie joints can be filled with tile or battens as an architectural feature or just left with a 1/8" indent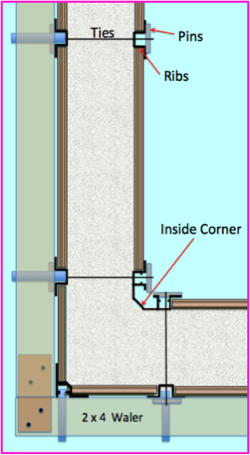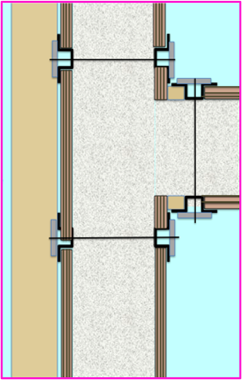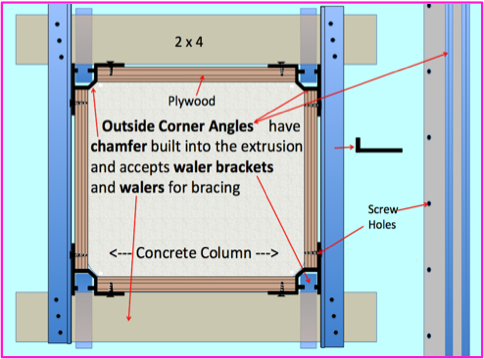 Architectural horizontal boards could also be used between Tie Channels
•User friendly Plywood PANELS easy to handle, and can also be used for columns and deck forming
•Vertical "Tie Channel" system keeps the wall straight from top to bottom - no bellying or need for strongback straighteners. For higher walls, Tie Channels and plywood panels can be staggered.
•Tie Channel extrusion is easily cut to shorter length with Chop Saw, if needed
•Ties and walers can be placed at any 6" interval
•Ease of mobility as form system is lighter and more compact for shipping than most other form systems  
•Besides ease of setup and handling this system is perhaps the least expensive and most versatile.
•Since all ties are inside the Tie Channel Joint, the finished surfaces of the concrete will have a perfectly smooth finish and the only imperfection due to tie scars will be within the vertical joint. This 1/8" joint impression will also serve as a control or crack joint which can be caulked without effecting the architectural concrete surface.
• Construction joints can land right on Tie Channel joint so they will not interfere with architectural concrete finish.
• Battens, Stone, or tile can be installed in the vertical indent after form removal for a unique architectural finish
• Curved walls, are easy to form using the Vertical Tie Channel System. Varying circumferences of forms can easily be adjusted by spacers next to Vertical Tie Channel on outer radius.
•Springing Ties allow the Tie Lock to snap and lock into the Tie Channel for quick setup
•Tie channels, ties , and tie locks can be prefabricated as a unit ready for form assembly.
•Short Horizontal wood planks can be used between the Tie Channels for another architectural feature .
•Easy stripping. An extruded channel in the tie lock allows the ties to be easily cut with a small cable cutter.
•All hardware is Aluminum and will not rust as compared to most other systems with hardware that rusts.